Making it matter: Open Education in the Global South
The 'Making it matter' workshop, gathering Open Education supporters and promoters, was held in London on Friday, May 16. The event strived to "be a 'first-step' in bringing together communities interested in the technical issues related to open data and education" in the Global South.
We discussed a number of interesting topic, among which the importance of open data for education, advantages and shortcomings of mobile tools as well as the links between educational technology, learning and development politics. All the slides for the day are now available online and you can also watch the videos from the talks. The workshop gathered reactions online through the hashtag #mim14. Marieke Guy, organiser of the workshop and coordinator of the Open Education workgroup, has collected the tweets in a neat storify.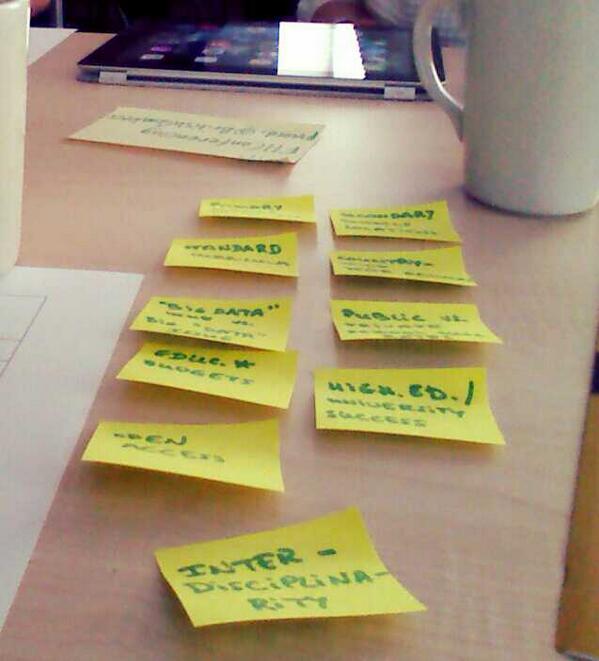 An important part of the day was dedicated to breakout sessions during which we grouped and addressed challenges ahead for open education in the Global South. Marieke has collected and organised the input from participants in a comprehensive way. Important observations have surfaced relating to the need to widen the scope of educational resources being created along with the necessity to translate and localise such information in order to remove the language barrier. In addition, we had a thorough discussion on innovative ways to train the trainers in various countries in the Global South — and to also educate decision makers. The latter often ignore many layers of the complex implementation of educational approaches which in turn harms the people as public money is not invested in appropriate programs and adopted curricula are not in adequacy with the local specifics.
"We hope the event was a success", wrote Marieke Guy after the workshop. Yes, it truly was as it enabled each and everyone of us, attendees, speakers, remote participants, to better understand the subtleties of bringing open and freely shareable educational resources to everyone worldover. The workshop was also a success for it resulted in an outline of both the messes and successes enabling each and everyone of us to build upon.
—
If you are interested in being involved with the Open Education workgroup, you are welcome to join the Open Education Working Group mailing list.
rayna